The Unitarian Society of New Haven provides an inspiring and engaging religious education program for children of all ages. We offer Sunday classes for children in preschool through high school focused on age-appropriate exploration and expression of oneself, the world, Unitarian Universalism and world religions (nursery care for babies and toddlers is also provided). We also offer a variety of age-specific and multi-generational social events, social action projects, and worship opportunities for both our congregation and the public. Scroll down to see brief descriptions of our classes for various ages, and check our website regularly to see what's going on in our CYRE program!
Our religious education curricula follow an alternating year cycle, since most classes are multi-age. In year "A" classes focus in on UU identity, history and values. In year "B" we explore the sources of Unitarian Universalism, including our Jewish-Christian heritage and other "neighboring faiths". 2014-2015 is an "A" year.
Click here for the registration form to enroll a young person in RE classes for 2014-2015.
---
2014-2015 Children's Religious Education Course Descriptions
The Children's and Youth Religious Education program is offered every Sunday from September — June during the second service and in the afternoon. Program times are:
11:15am-12:30pm Preschool through 8th grade
1:30-3:30 pm Grades 9-12  YRUU (Youth Group)
Nursery for Infants and Toddlers
Nursery for infants is available from 9:15am-12:30pm each Sunday.  The nursery is staffed by trained providers and is a warm and welcoming place.
Children's Chapel
One Sunday each month, we gather in the Children's Chapel for shared worship.  Children in Pre-K through 5th grade participate, while 6-12 graders hold classes as usual. We intend for our children to learn and enjoy the process and elements of worship, through sharing  joys and concerns, meditative readings, exploration of the seven UU principles and the six sources which our faith draws from, interactive activities and occasional guest speakers on social justice matters. We welcome parents to join us!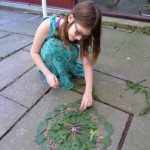 The pictures at left show our Director of Religious Education leading an opening hymn during a chapel service, and a child making "Nature Art" during one of our summer chapels.
---
Sunday Morning Classes – Gather in the Sanctuary at 11:15 am
(children are in classes from 11:30-12:30)
Pre K – Celebrating Me and My World – Author: Debora Chandler Pratt
Theme and Description: This full-year curriculum celebrates the wondrous qualities of children and the animals, objects, and people around them. Provides preschoolers with experiences and opportunities to grow in trust and caring and to develop their self-identity and sense of connectedness with all of life.
Goals for Participants
To develop a positive self-image
To feel safe and accepted at home and in the church
To become familiar with the terms "Unitarian Universalist," "Unitarian Universalism," and "chalice"
To engage in the joy of sharing and living in a group
To become aware and appreciative of our interconnectedness with nature
To develop cooperative skills
To express what they see, feel, think, remember, and prefer
To extend the boundaries of what they regard as "their world."
Kindergarten and 1st Grade: Wonderful Home
Wonderful Home was compiled from the UUA Tapestry of Faith (web-based) curricula Creating Home and Wonderful Welcome with selected lessons from Around the Church Around the Year and Chalice Children to emphasize the learning of UU values, traditions and history in Grade K-1.  Wonderful Home relies on the structure of Creating Home to provide the framework for all sessions.  Sessions from other curricula should be adapted to fit the basic format: Laying out the labyrinth, placing the chalice, placing the name stones, comments about the previous week (by children); the story telling; activities; the closing; returning the name stones to the basket. (Name stones will be made in the first session.)
2nd and 3rd grade:  UU Superheroes 
UU Superheroes is a values-based Unitarian Universalist identity curriculum, which introduces children to stories of Unitarians, Universalists, and Unitarian Universalists who have acted with courage and wisdom in their attempts to live their lives fully and make the world a better place for others.  The curriculum includes, but is not limited to explorations of the following individuals:  King John Sigismund, Henry David Thoreau, Olympia Brown, Pete Seeger, Clara Barton, Joseph Priestly, Beatrix Potter, Theodore Parker, Lewis Latimer, Lydia Marie Child, Christopher Reeve, Sophia Lyon Fahs, Norbert Capek, Vilhjalmur Stefansson, Malvina Reynolds, and P.T. Barnum.
4th and 5th Grade: Windows and Mirrors
"Mirrors in which they can see themselves, windows in which they can see the world." — Lucille Clifton, African American poet, writer and educator
Unitarian Universalism views our members' multiple perspectives as a blessing. In spirit, we embrace the contribution of diversity to our collective ability to pursue truth, fairness, justice and love. In practice, however, we often fail to embrace all the experiences and viewpoints in our communities as respectfully or as wholly as we might. Sometimes, we fail to even see differences among us. We seem most prone to gloss over differences when to acknowledge them requires acute self-examination and may lead to pain, shame, discomfort or guilt.
Windows and Mirrors nurtures children's ability to identify their own experiences and perspectives and to seek out, care about and respect those of others. The sessions unpack topics that lend themselves to diverse experiences and perspectives — for example, faith heritage, public service, anti-racism and prayer. The program teaches that there are always multiple viewpoints and everyone's viewpoint matters.
---
Middle School
6th and 7th: Heeding The Call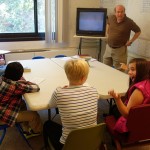 Heeding the Call is a social justice curriculum that not only explores linked oppressions in our society, but also encourages participants towards personal growth in values that counteract the marginalization of others. Workshops on empathy, courage, abundance, joy, and other qualities ask participants to recognize how these standards can be tools for justice. Additionally, the program includes more concrete tools, such as suggestions on how to be a good ally and tips on the language of conflict resolution. True stories of courage, sacrifice and collaboration, role-plays, games, and a program-long justice project will feed youth's rising realization that as people of faith we are all called to love justice — not just with our words, but also with our deeds.
Affirmations Year: A "Coming of Age" Program (8th Grade)
A special year-long coming of age course created especially by the Unitarian Society of New Haven. 8th graders are encouraged to fully engage in their own free and responsible search for truth and meaning as well as develop their personal understandings and connections to UU. As a capstone experience, the class attends a study trip to Boston, MA, to see the headquarters of the UUA and other monuments of our faith.
---
High School
Click here to visit our Youth programs page for updated information about High School offerings!
Electives
Children's Choir — For children of all ages, conducted by Linda Pawelek, our Director of Music.