Renting Our Facility
USNH rents its facilities to members of the New Haven community for activities that are in accordance with our mission and values. We welcome inquiries from members and non-members alike.
Our welcoming building is symbol free, and offers settings for conferences, performances, and gatherings of all kinds.  While no affiliation or member referral is required for rentals, we do ask that if you are considering renting our facility for a wedding or a memorial service, you contact our office staff (office@usnh.org) so we can let you know about our policies regarding these events.
Rooms may be rented once or on a repeated basis. The building is fully ADA accessible, with elevator and wheelchair seating.
The Sanctuary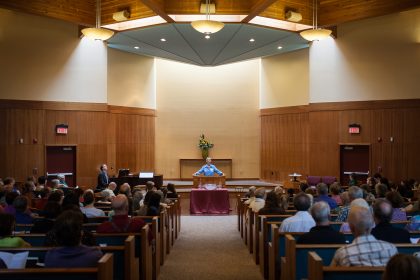 3,000 square feet capacity up to 400, including 6 wheelchairs.
The elegant contemporary sanctuary has warm cherry paneling and vaulted ceilings. It is fully air-conditioned, provides a built-in state-of-the-art sound system, and offers a Steinert concert grand piano. There is an adjustable- height lectern and portable microphones, and assistive hearing devices are available. Cushioned, semi-circular seating slopes gracefully down toward the 600-square-foot chancel/performance area, providing excellent sight lines and a sense of community. Windows and wall/ceiling lighting create a variety of options for illumination. This room is perfect for weddings, concerts and recitals.
The Social Hall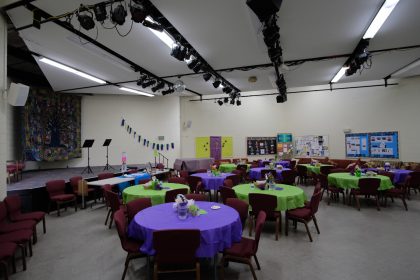 1,700 square feet plus stage capacity up to 300 square feet
This multi-function room has a vinyl tile floor and a raised, carpeted stage. Three banks of professional performance lights enhance theatrical productions. We have ten, 60-inch round tables and twelve, 60-inch rectangular tables, with a total seating capacity of 160 people.  The Social Hall itself can hold up to 230 people (non-seated).  We have 100 cushioned chairs as pictured, and the remainder of our chairs are folding chairs.  We can provide crowd-size coffee urns and pitchers for water and cream.   Convenient for parties, receptions and conferences, this room has an adjoining full kitchen and opens onto an adjacent outdoor patio and garden area.
Lobby and Coat Room
Use of the spacious lobby and adjoining coat room is included with rental of the sanctuary or social hall at no extra charge.
Large Meeting Room – Children's Chapel
1044 square feet capacity up to 50
This flexible carpeted space is well-designed for meetings and for meditation and yoga classes and features pleasant natural light. The room offers a piano and the option of a podium, folding tables and various seating arrangements.
Library Meeting Room
500 square feet capacity up to 40
This carpeted and inviting room has a window wall and two walls lined with books. Rectangular tables can be set up in your choice of arrangements. With comfortable chairs and an easel, this room is ideal for small conferences or training sessions.
Small Meeting Rooms
Capacity up to 20 each
Three smaller classrooms with large windows and flexible table and chair arrangements are convenient for breakout sessions, individual or group lessons, or professional counseling services.
Inquiries and Arrangements
For additional information, rental rates, or to arrange a visit, please contact us at: office@usnh.org or 203-288-1807 ext. 201.  We are looking forward to helping you make your event special!